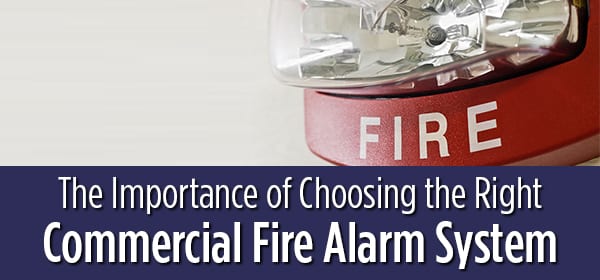 Whether you are installing a new fire alarm system or upgrading an existing fire protection system, it is important to understand that not all systems are created the same or for the same purpose. Before you choose, know your building needs and meet them with the appropriate technology.
Automatic and Manual Fire Alarms
There are two common categories of commercial alarm systems, manual and automatic. Manual commercial alarm systems sound when someone manually activates them in the event of a fire. These of course only work if someone is around to manually activate them. Automatic fire alarms detect heat or smoke and provide an audio-visual alert with alarm and flashing light when it detects danger.
Three Types of Fire Alarms
When choosing your fire alarm system, it is also important to understand the different types of systems within those categories.
Conventional Alarms
Conventional alarm systems divide up the property into zones which are wired into the control panel. This system permits you to use separate fire alarms in each section.
Addressable Fire Alarms
With addressable alarms, each alarm installed in the system has its own address so you can see which alarms are working and which are not.
Hybrid Fire Alarms
Hybrid alarms combine the zone features of conventional alarms with the addressable loops of the addressable fire alarms.
Tips for Choosing the Right One For Your Property
There is no one-size-fits-all choice for commercial fire alarms. Different properties have different needs and systems vary in price and features. Here are some tips for choosing the right one for you.
Consider the Protection Type
Fire alarm systems are designed to save lives or save property, or both. Choose the system depending on what type of protection you are wanting to achieve. Smoke detection, for example, is a feature that can detect fire at its early stages and help to save lives.
Know City Codes
Every city has specific codes that must be followed in addition to state and national code requirements. Ask city officials about the codes in your area to ensure compliance.
Work with a NICET Professional
It is one thing to know fire codes and technologies, and quite another to be able to implement them. Working with a NICET certified professional ensures that your building is fitted with the most appropriate and effective technologies.
For more information about Advantage Systems Group and commercial fire alarm systems, give us a call today! We've been supporting area businesses since 1970.