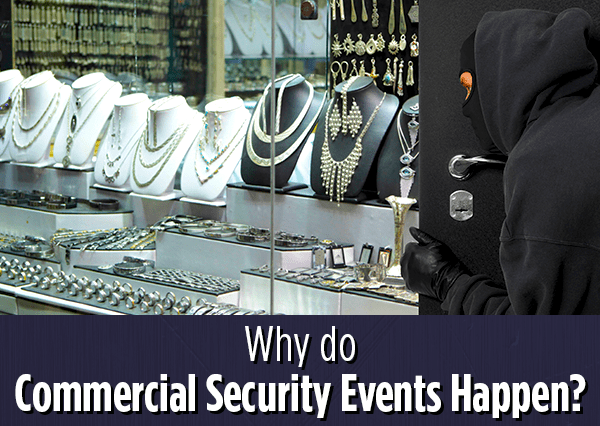 While every commercial business is different and has a completely different set of physical security needs, there is something they all have in common–the opportunity for events to happen. The measures each business takes, however, can make all the difference.
It may surprise you to know that most crimes and security events are preventable and happen because there was a failure to take proper precautions. Shoplifters, for example, are opportunistic and look for places where they can reap the most reward with the lowest risks involved in committing the crime. Most fires occur because of human error. Most commercial theft occurs because of a lack of systems in place such as access control and video surveillance to prevent, detect and deter it.
What Should You do to Prevent Security Events?
To improve your security it is necessary to identify and analyze your risks, vulnerabilities, and countermeasures. These metrics together can help you identify your weaknesses and help you identify ways to improve your security.
Identify Your Risks
Every business has a different set of risks. Perhaps your business has an increased risk of fire because of the tools, processes, or materials it uses. Maybe your business has a higher risk of theft because you deal in highly sought after products such as expensive electronics. Your location may add to your risk as well.
Identify your Vulnerabilities
Your vulnerabilities are your weak points, where those risks can gain entry. Perhaps your vulnerability is that you have several access points, such as cargo doors. Another vulnerability could be that you do not have a working or adequate fire alarm or suppression system. A location in a high-crime area is also a vulnerability.
Mitigate Your Risks
Implement a security strategy that mitigates your risks. Consider practices and technologies that detect, deter, alert, and initiate a response. For example, video surveillance can serve as both detection and deterrence. CCTV can provide a way to assess the situation, and an intercom can prevent the criminal from making entrance. Intrusion detection can alert if someone makes entrance and, if the system is professionally monitored, the proper authorities contacted immediately.
Don't let security events destroy your business. Call ASG today!