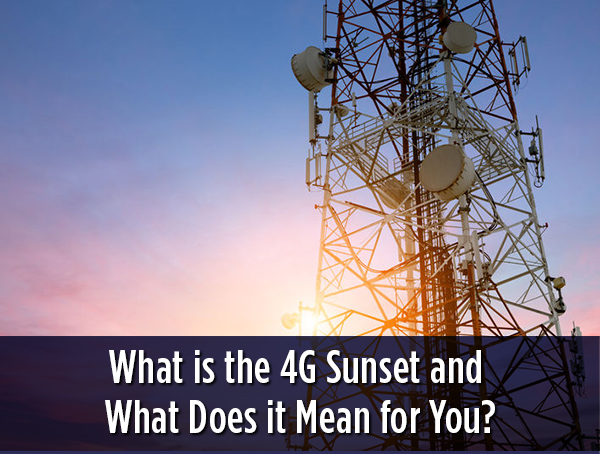 Cellular communication technology improves generationally. In the same way cell phone companies release the latest technological improvements and phase out their older models, cellular companies have also continued to make substantial improvements to their networks over time. With these improvements, the slower networks are phased out as the companies transition their support to the newer, faster networks. In this case, 3G/4G is the network being eliminated and is transitioning to the next generation of network known as "LTE". Simply put, 3G/4G sunset marks the upcoming end of support of aging 3G & 4G networks by telephone companies.
Shutdown is Imminent
While the 3G Sunset is a process and shutdown is imminent, there are some activities that can impact you in the very near future. As it was for the 2G Sunset, the sunset of 3G/4G is a process mandated by the FCC and not a choice cellular providers make themselves. All cellular providers are discontinuing the use of the 3G/4G network. This is very important for anyone looking to activate an AT&T or  Verizon 3G/4G communicator, as well as those who currently use either network with their alarm system.
What This Means for Your Alarm System
Support for these networks is ending in batches. That means the support for 3G/4G is being discontinued tower by tower every week and there's no way to predict when your area will be affected. Additionally, during this process, cell providers will be consolidating towers. Alarm systems could be communicating today and unable to communicate tomorrow or experience communication slowing or disruption before the official shutdown which is expected at the end of 2021. 
What You Should Do?
In order to maintain an active cellular communication path, it is crucial that you upgrade to an LTE communicator. LTE stands for "Long-Term Evolution".  AT&T and Verizon are expected to support their LTE network for many years to come.
If you currently are an Advantage Systems Group customer, you have or will be receiving a letter with options for updating your system to work with the new LTE network.
Now is the time to take action to avoid any lapse in monitoring services. Contact us today to have your system evaluated and upgraded if necessary to avoid disruption to services.