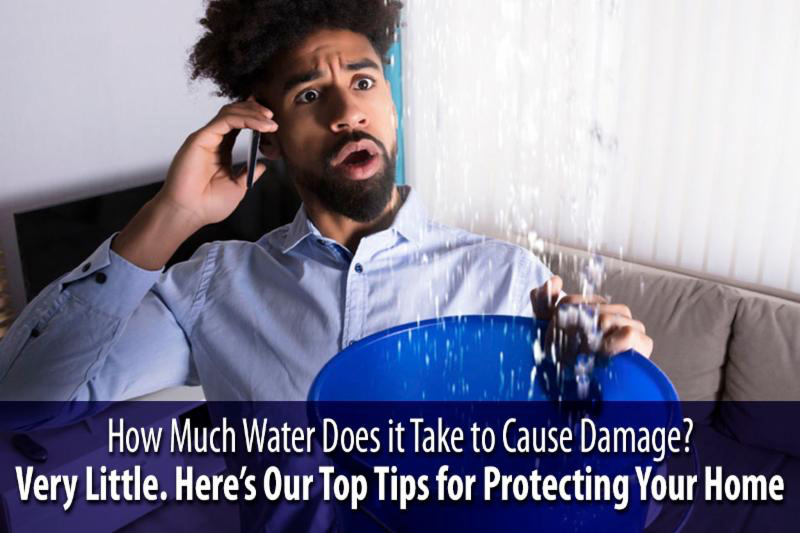 Top Ways to Protect Your Home from Water Damage 
If you aren't actively protecting your home from water damage, it is time to start now. Why? Moisture is one of the most damaging elements your home can encounter and it does not have to be torrential to cause serious and costly damage. Certainly, events such as severe storms can cause serious damage to your home. More often, however, it is a small undetected leak from faulty pipes that causes extensive damage over a period of time. 
The good news is, protecting your home from water damage is relatively easy. Here are our top tips for protecting your home.
Clean Your Gutters
A build-up of debris in your rain gutters can clog the gutters causing the water to be directed toward the structure. 
Check Your Downspouts
Downspouts should be directed 5-10 away from the home and ideally, into a drain. 
Use the Right Tools To Detect Problems Early
The best way to detect a water issue before it causes major damage is to use the right tools. Water sensors can detect as little as 1/32 in. of water and produce a loud alarm that can provide an effective early warning system. The water sensor can be placed directly on floors or mounted for installation in a variety of locations such as in a sump pit, near water heaters and more. 
Protect Sump Pumps
A good sump pump installation should include a backup system for breakdowns and power outages, including a backup battery and sump pump level sensors. Sump pump level sensors detect and warn of sump pump failures. This simple sump pump float switch monitors the water level in your sump pump and lets you know if the water level rises or falls.
Consider Your Landscaping
Consider your home in your landscaping plan. Avoid planting plants and trees that have invasive root systems near the home or plumbing system. 
Check Your Roof
Inspect your roof and look for missing or damaged shingles, or weak spots that may indicate water has infiltrated your roof. 
Inspect Toilets, Tubs, and Showers
Thoroughly inspect the floor around sinks, showers, tubs, and toilets for water. The presence of moisture may indicate a leak and the need to call a plumber. 
Inspect Your Water Heater
Water heaters are subject to corrosion and leaks. Check yours regularly and have it inspected by a plumber to avoid problems.
Upgrade Washing Machine Hoses
Don't skimp on the hose that supplies water to your washing machine. If it is old, brittle, cheap, or thin, replace it to avoid expensive water damage. 
Monitor Your Water Bill
Any spikes in your water bill could indicate an undiscovered leak in your plumbing system. 
All it takes is one small leak to cause major damage to your home or business. Call ASG today to learn more about leak detection and monitoring!