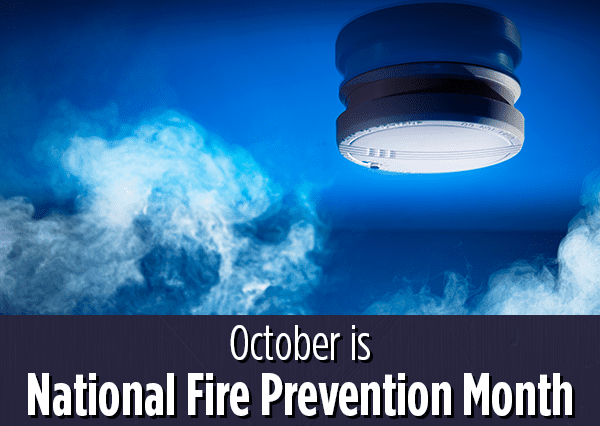 At around 9:00 p.m. on October 8, 1871 a fire started in a small shed in the alley behind 137 DeKoven Street in Chicago. The blaze rapidly spread and ravaged the city for two full days. The fire came to be known as the Great Chicago Fire and killed 300 people, destroyed over 3 square miles, and left over 100,000 people homeless.
Commemorating the Tragedy With Awareness
In 1922, when the National Fire Protection Association named the second week in October Fire Prevention Week in commemoration of the Great Chicago Fire in 1871. Today, we continue the tradition of Fire Prevention Week and Month by raising awareness about fire safety and prevention by educating families communities across the United States.
2018 Fire Prevention Month Campaign
Annual observances help prevent complacency, which is often the root cause of many preventable fires. This year, the National Fire Protection Association's campaign is "Look. Listen. Learn. Be aware. A fire can be anywhere." It is a campaign that encourages us to observe fire safety all year.
Consider the Facts
A look at some common statistics shed light on why we should all be aware of fire safety practices.
According to the NFPA*, in 2016 there were

352,000

home fires, and

3 out of 5

fire deaths occurred in homes without smoke alarms.

Less than

50%

of homeowners have an escape plan.

Carbon monoxide is the

#1

cause of accidental death.
Observe Good Practices
To help prevent fires, observe good safety practices. Here are some of the most important practices recommended by NFPA and other fire prevention agencies.
Place smoke alarms on every level of the home.

Install smoke detectors in every bedroom and outside every sleeping area.

Clean and maintain smoke detectors regularly.

Carbon monoxide (CO) alarms should be placed on every level of the home and in each bedroom.

There should be at least one fire extinguisher on each level of the home, and one in the kitchen and the garage.

Keep debris away from sources of ignition.

Have an escape plan.
We at ASG want to do our part in promoting fire safety. Please take the time to review fire safety tips and practice an emergency escape and response plan. If you have questions about how to improve your safety, please give us a call.